From interstellar adventures and intense space battles to alien invasions and AI taking over the world, sci-fi shows give us everything our minds envision outside the bounds of everyday science. And while live-action series and movies take most of the praise in the genre, sci-fi anime has proven on multiple occasions that it can be just as good if not better.
Today, we countdown the 20 best sci-fi anime of all time in no particular order.
1. Ergo Proxy
A global ecological catastrophe has laid waste to the planet, and the last humans can only survive in domes with the help of humanoid robots called "AutoReivs." When AutoReivs in the domed city of Romdo get infected by the "cogito virus" and become self-aware, Re-I Meyer and her partner Iggy are assigned to investigate the phenomenon. Meanwhile, a freshly awakened "proxy"- a god-like being of myth- seek the truth of its existence.
Implementing some fantastic storytelling, Ergo Proxy is an enjoyable watch with intertwined mysteries that make for an authentic psychological mind-boggling experience.
Check Out: 40 Of The Best Psychological Anime That Will Mess With Your Head
---
2. Planetes
In 2075, advancements in science and technology have made space travel just another part of everyday human life, allowing for large space corporations' formation. In the Debris Section of one such company, a new employee Ai Tanabe is about to realize how underappreciated, underfunded, and understaffed her space garbage department is. Meanwhile, she becomes acquainted with other department members, each with a unique personality, hopes, and dreams.
Planetes approaches the sci-fi world differently, telling a fascinating story of ordinary people's dreams in space rather than the soldiers, scientists, and explorers we are used to.
3. World Trigger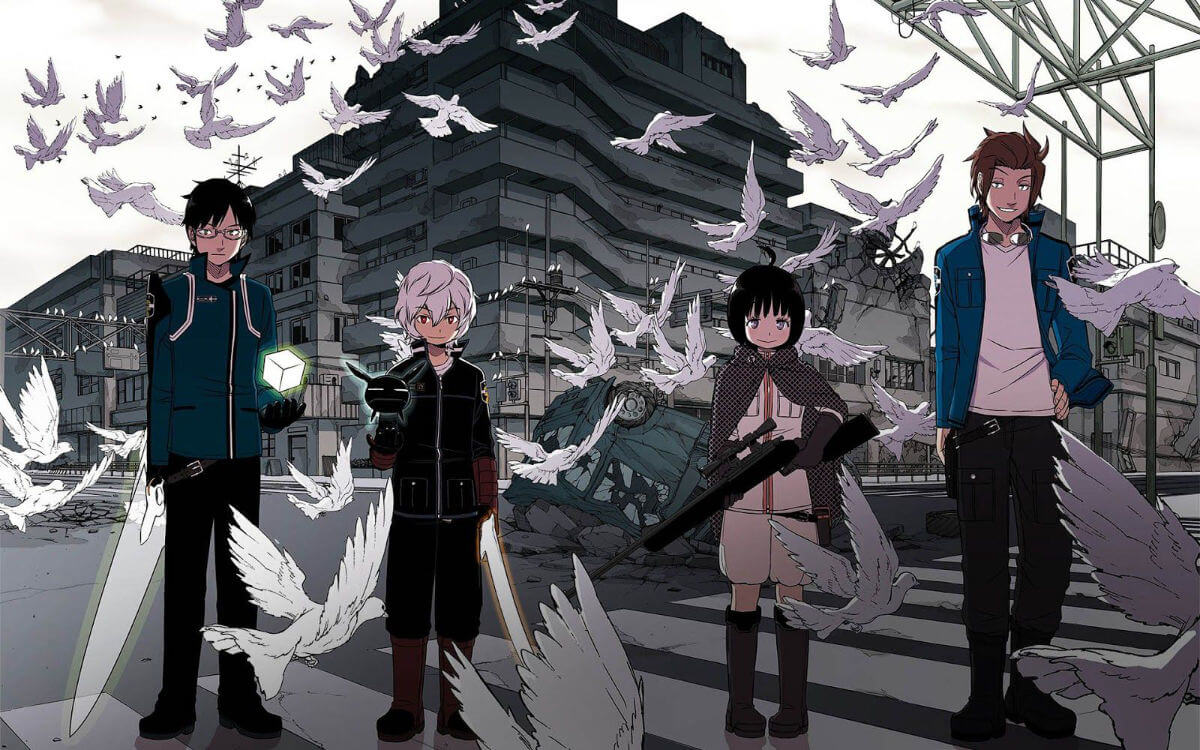 Somewhere in the Earth's future, a gate from another world suddenly opens, and strange creatures known as "Neighbors" invade Mikado City. The Border Defense Agency is the only organization with weapons (Triggers) advanced enough to combat the Neighbor menace. World Trigger follows humanity's fight for survival and the adventures of Osamu Mikumo when he gets involved with a mysterious new student who happens to be a Neighbor in disguise.
Although this Shonen anime starts off slow in the first couple of episodes, it tells an exciting story by introducing a protagonist who struggles with himself and his mistakes.
4. Psycho-Pass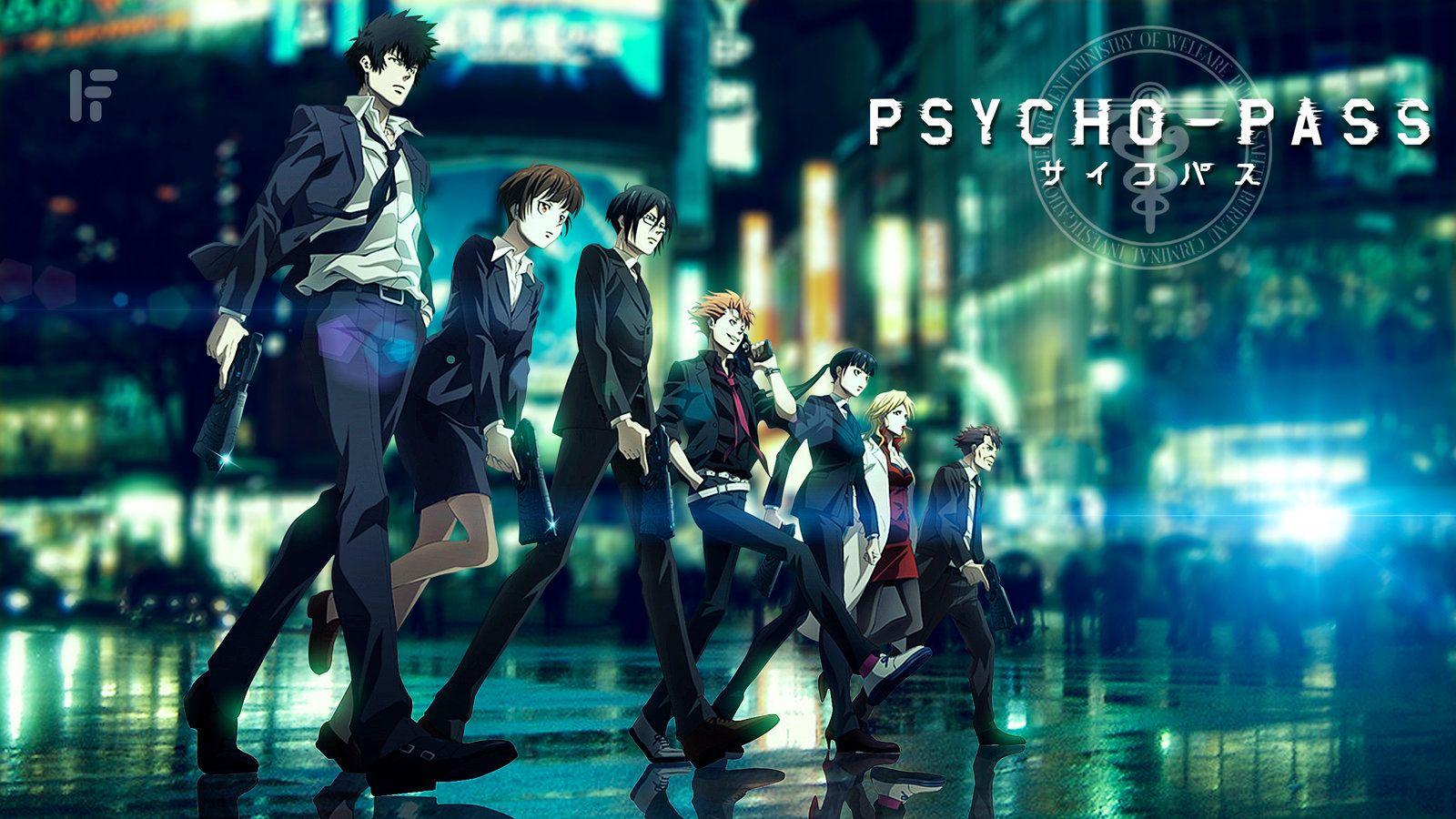 In the 22nd century Japan, the government has enforced the Sibyl System, which examines citizens' mental state for criminal intent signs (Psycho-Pass). Following this system, inspectors and their enforcer aides often resort to lethal force against anyone shown to harbor even the slightest ill-will. When Akane Tsunemori joins the inspector-enforcer world, she soon learns the Sibyl System is not as perfect as previously assumed.
Following the story of Akane Tsunemori and her quest for justice, Psycho-Pass showcases that the concept of a perfect society is just but an illusion.
Check Out: Top 40 Dark Anime To Watch In 2021
5. Parasyte: The Maxim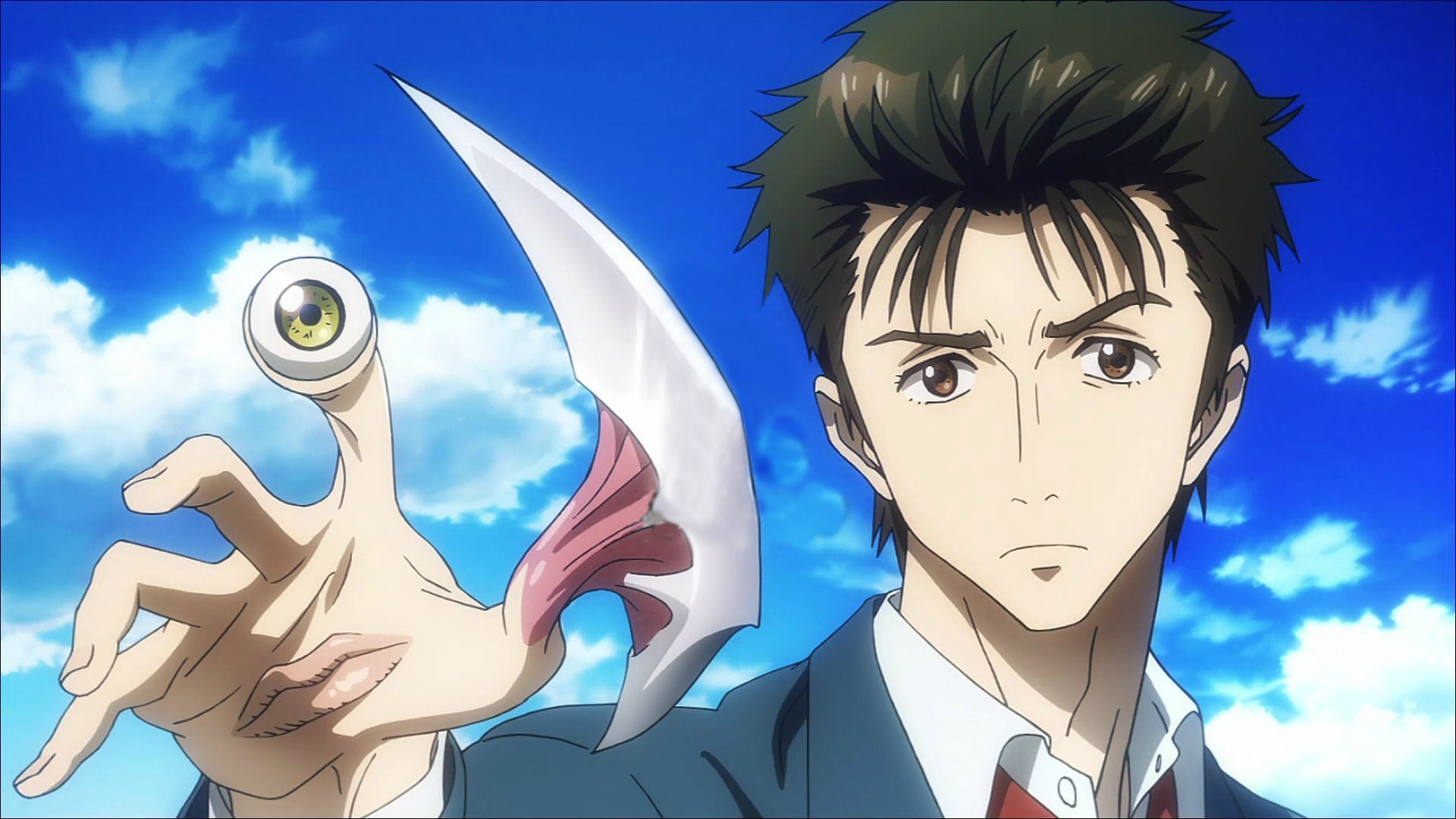 The world is invaded by a parasitic alien species that infiltrate humanity by taking over vulnerable individuals' brains, obtaining complete control over their hosts. This gives them the ability to morph into any form and prey on unsuspecting sufferers. However, one parasite cannot take the brain of a teenage boy- Sinichi Izumi- and has to settle for his hand, forcing the pair into an unlikely alliance and pulling them into a war with other hostile parasites.
With a philosophical plot and solid art, and well-animated scenes, Parasyte is an excellent watch with cliffhangers that will leave you at the edge of your seat.
Check Out: 15 Of The Goriest Anime & Manga That Will Turn Your Stomach Upside Down
6. Level E
Aliens simply can't resist Earth, can they? Yukitaka Tsutsui is the beneficiary of a baseball scholarship. After moving to his new home, he is surprised to find a strange man dressed in his clothes and nonchalantly reading in his apartment. The man, Baka Ki El Dogra, flat-out admits to being an alien who crash-landed on Earth. This turns out to be accurate, and Baki is an intergalactic fool who takes sport in inconveniencing others with his antics.
Level E is an anime series with short story arcs and sophisticated twists and turns that add to its mystery.
7. Ghost in the Shell: Stand Alone Complex
In a future where technology has made complete body transfers from flesh to machine possible, humankind can attain incredible physical and cybernetic prowess. Like most other feats of humanity, criminals can use such technology to create new and dangerous threats. Section 9 is an independent police unit established by the Japanese government to deal with such cases, and today, they are faced with a new threat; a level A hacker called "The Laughing Man."
Ghost in the Shell needs no introduction in the sci-fi world, and the Stand Alone Complex further explores the questions asked by the feature film on the relationship between man and machine.
Check Out: 10 Of The Best Mystery Anime's You Need To Watch Today
8. Trigun
Vash the Stampede is a wanderer with a mysterious past and a 60-billion-dollar bounty on his head to destroy July City. Rumors say that wherever he goes, he leaves a trail of and destruction and anyone foolish enough to look him in the eye is as good as no longer living. Two insurance agents, Meryl Stryfe and Milly, follow him around to minimize damage caused by his appearance.
As the trio's misadventures unfold, they find themselves in life-or- situations when a group of legendary assassins is sent after them.
Check Out: Best 90's Anime You Should Watch Today
9. Outlaw Star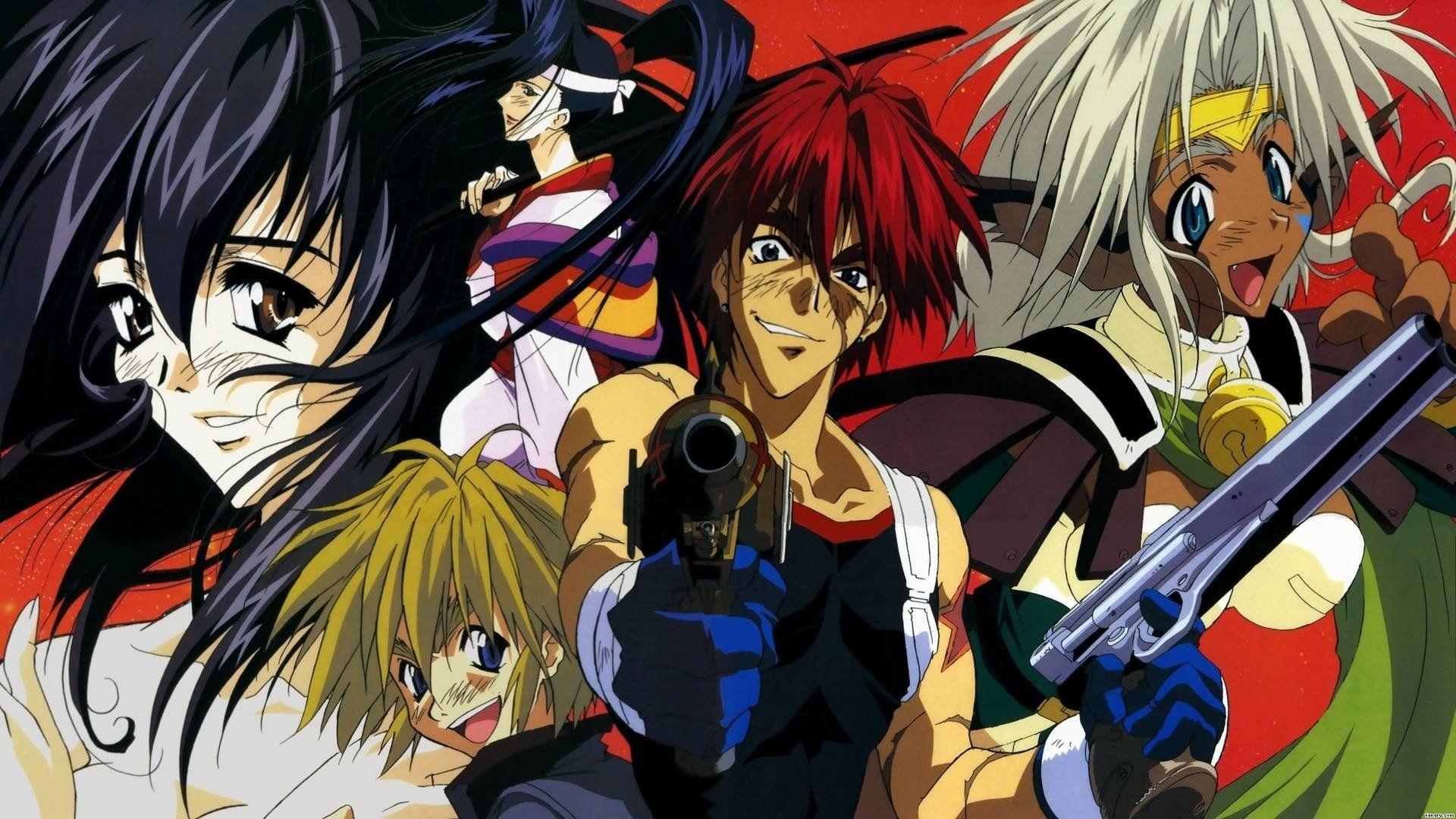 Gene Starwind and James Hawking's ordinary lives take an adventurous turn when the duo receives a job offer from Rachel Sweet, a treasure-hunting outlaw. Gene and James are sent out into the vast openness of space onboard the ship, Outlaw Star, with the task of protecting a mysterious girl called Melfina. As they navigate the stars, the duo encounter space pirates, Taoist mages, hostile bounty hunters, and other odd characters.
On top of being an exhilarating adventure, Outlaw Star packs lots of humor and philosophical questioning. The story moves at a decent pace with well-written and perfectly portrayed characters, making it easy for viewers to keep up.
10. Cowboy Bebop
The year is 2071. With the help of outlaw bounty hunters, the Inter Solar System Police is responsible for maintaining peace among humans who have colonized other parts of our solar system. Spike Spiegel and his partner Jet Black are bounty hunters on board the spaceship Bebop. During their travels through space, they meet Ein, Faye Valentine, and Edward Wong. Together, the crew of five embark on epic adventures and uncover each other's dark and mysterious past in the process.
Aired between 1998 and 1999, the show is an authentic Western classic with an iconic style, design, and animation. Using the depth of its characters, the series balances intense action with light-hearted comedy, and ooh! The music is quite remarkable.
Check Out: Best Anime Villains Of All Time: The Ultimate List
11. Persona 4: The Animation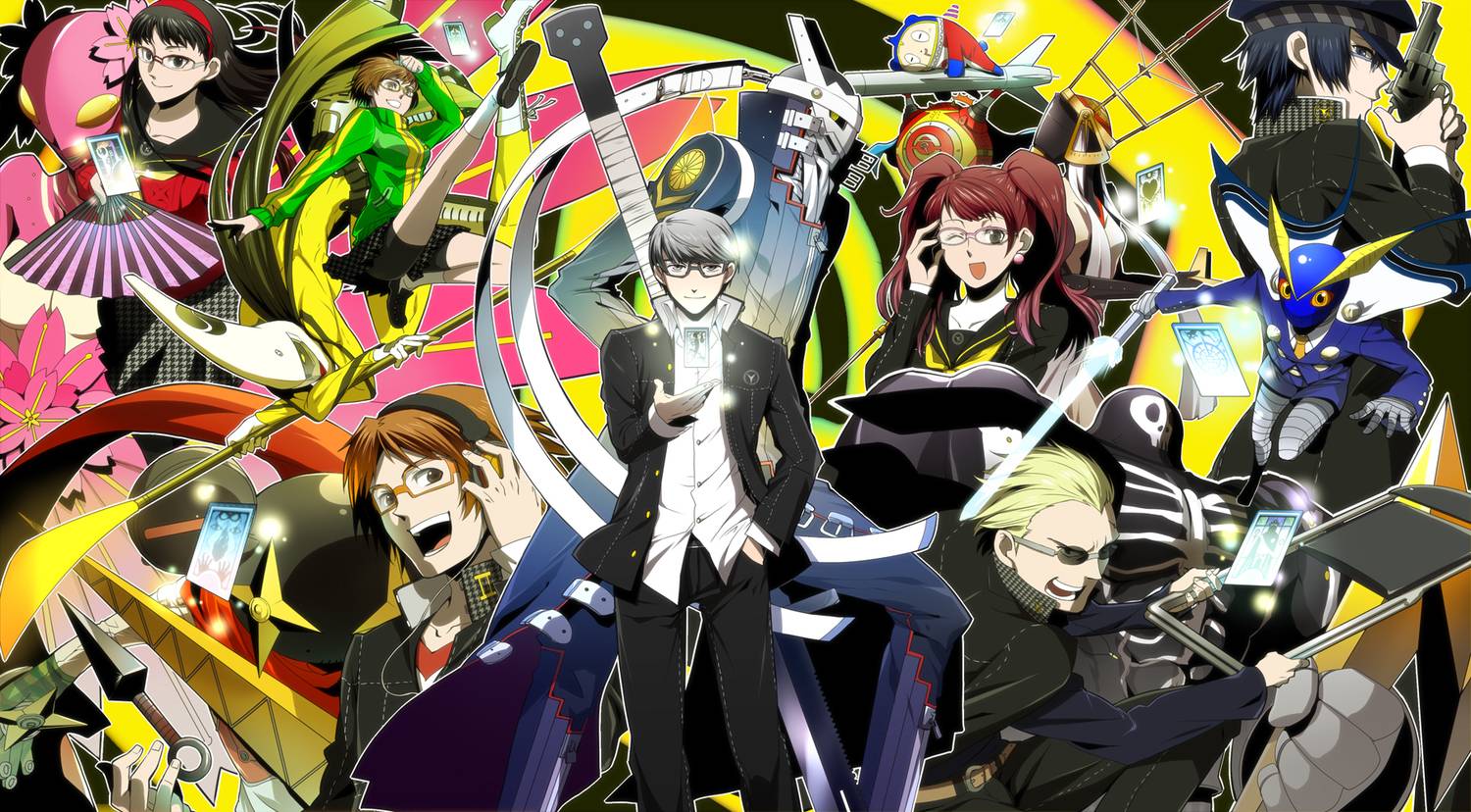 Inaba looks like any other small Japanese town in the countryside, but Yuu Narukami and his three new friends are about to discover that things in Inaba can get nasty. When mysterious killings on foggy days and rumors of a strange television channel rock the town, the four high school students encounter an alternate dimension overrun with evil creatures called "Shadows." Drawing a link between the dimension and the killings, the friends use physical manifestations of their true selves ("Personas") to combat this threat.
Persona 4, the animation, is an adaptation of the famous 2008 PS2 game of the same name. Many people agree that it's one of the best anime adaptations of a videogame out there.
12. Texhnolyze
Ravaged by power struggles between three factions fighting for total control, Lux is an underground city on the verge of collapse. Its only hope is a disgraced prizefighter with cybernetic limbs and a mysterious young girl with the ability to see possible futures. Realizing that the city's fate rests on their shoulders, the duo embarks on a mission to save Lux from all-out war and total collapse.
Texhnolyze gives its story a slow and steady treatment rather than take the straightforward approach like most anime. It relies more upon its narrative's power, giving it a more realistic and true-to-life feel that many people enjoyed.
13. Serial Experiments Lain
Despite Lain Iwakura's lack of desire or experience with technology, a disturbing email from a recently deceased classmate introduces her to the Wired, a virtual world similar to the internet that turns her life upside down. Suddenly, she encounters cryptic mysteries and is followed by the mysterious Men in Black, who seem to know everything about her.
By blurring the boundaries of reality and cyberspace, Serial Experiments Lain established itself as a psychological and philosophical masterpiece that is still popular two decades after its release. Rather than restrict itself within traditional storytelling boundaries, the series tells its story in a convoluted fashion that requires viewers to pay attention to detail if they are to grasp the plot's content.
Check Out: Best Anime Every Year From 1960s To 2021
14. Fractale
Fractale is set in a world that has implemented the "Fractale System"- a system where people don't have to work but instead have real-world avatars do everything for them. As this system begins to collapse, Clain encounters an injured girl, Phryne, who disappears, leaving a pendant under a cliff. With the help of a female avatar called Nessa, he sets out to find Phryne and, in the process, uncovers the secrets of the Fractale System.
15. Howl's Moving Castle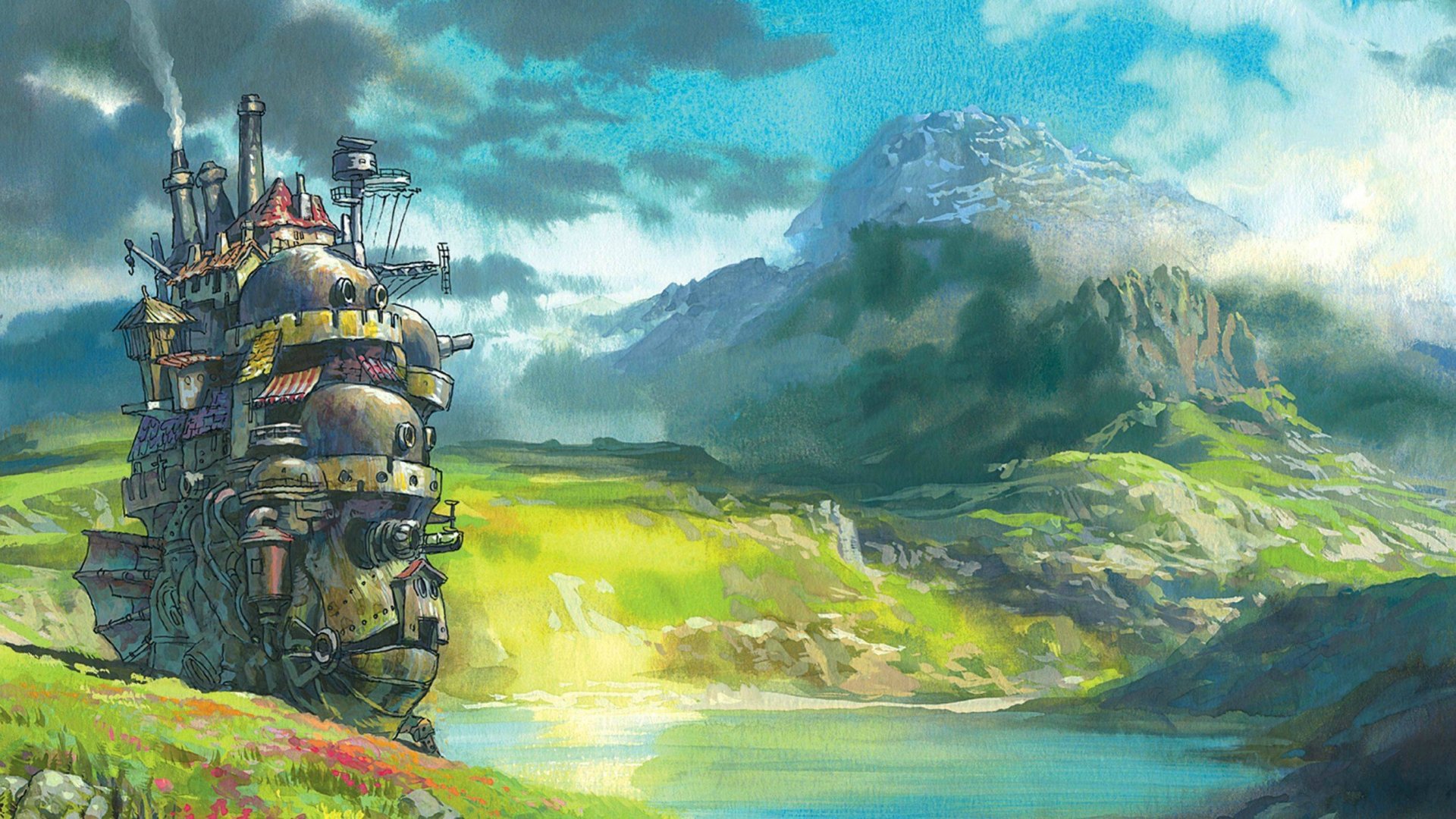 The moving castle is home to Howl, an infamous wizard renowned for his magical prowess and womanizer. When he saves a hatmaker's daughter called Sophie from a pretty disturbing situation, a vengeful Witch of the Waste casts a curse on the maiden, turning her into an older woman. To return to normal, Sophie has to accompany Howl and some eccentric companions in his living castle as the crew embarks on a dangerous adventure through the war-ravaged kingdom.
An adaptation of a 1986 novel by the same name, Howl's Moving Castle storytelling, and beautiful art make the anime a movie well worth anyone's time.
16. Steins; Gate
A mad scientist Rintarou Okabe, his childhood friend Mayuri Shiina, and a hacker nicknamed "Daru" spend time in their makeshift lab tinkering with their latest invention, the "Phone Microwave." This invention can morph bananas into a pile of green gel, something which Okabe doesn't consider a scientific breakthrough. Luckily for him, a series of mysterious events lead the trio to realize that the device can send emails to the past.
Steins: Gate is an excellent piece of work, with a complex plot that unfolds bit by bit towards a satisfying ending. And while its art is pretty good, the fantastic plot is backed up by well-written and easily likable characters that make the story more compelling.
Check Out: 9 Must Watch Anime After You Finished Note
17. Mobile Suit Gundam 00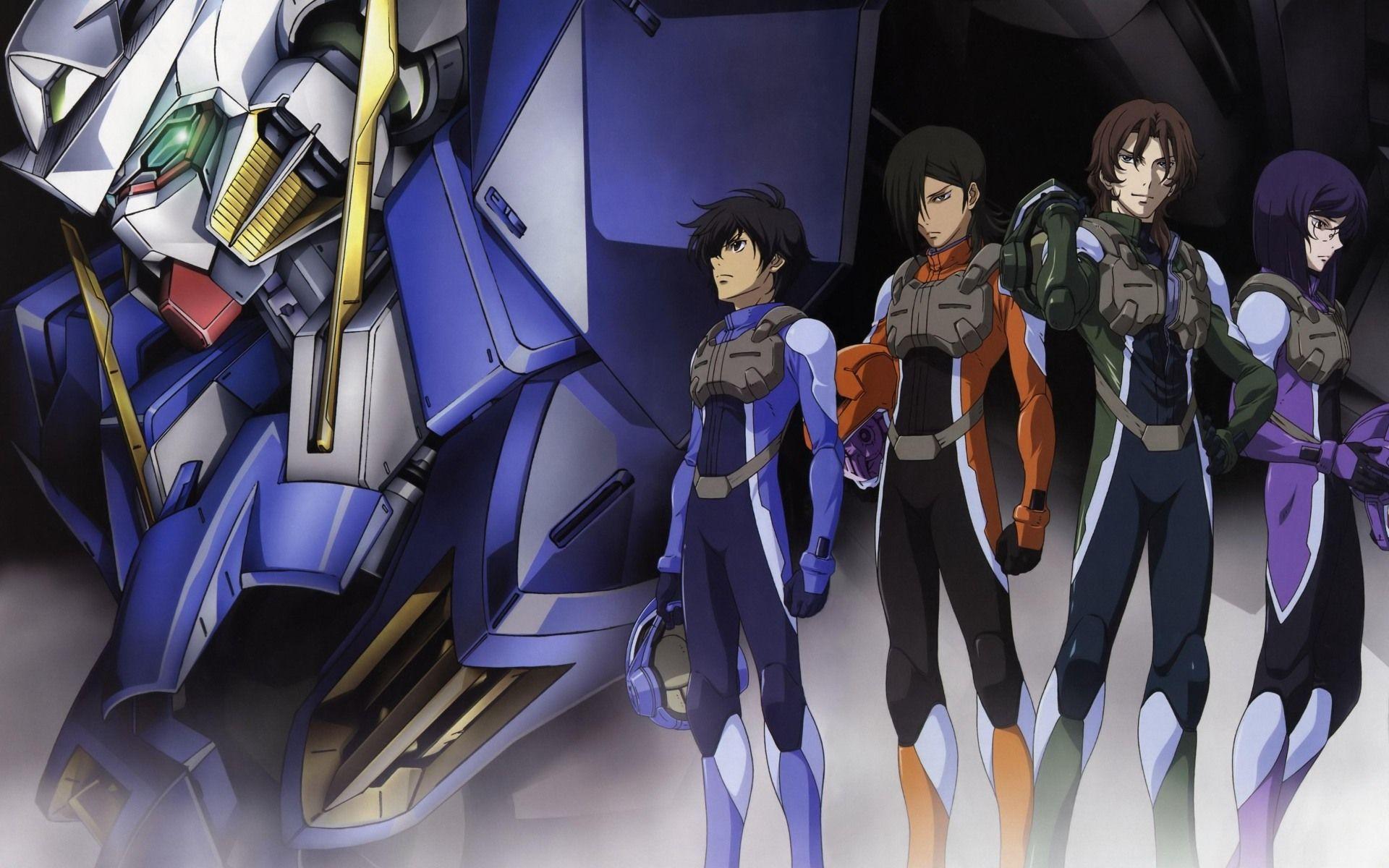 After the world is plunged into an energy crisis after depleting all its fossil fuel reserves, humanity focuses on solar power as an alternative energy source. Some countries unite to form three different factions, each with access to a solar power generator. As these countries enjoy limitless energy, others are plunged into poverty resulting in years of war over solar energy control. However, a mysterious organization is well equipped with advanced mobile suits- Gundams- powerful enough to end all warfare.
While the Gundam series is well known in anime circles, Gundam 00 stands out from other editions with its sleek art style and superior graphics quality.
18. Space Dandy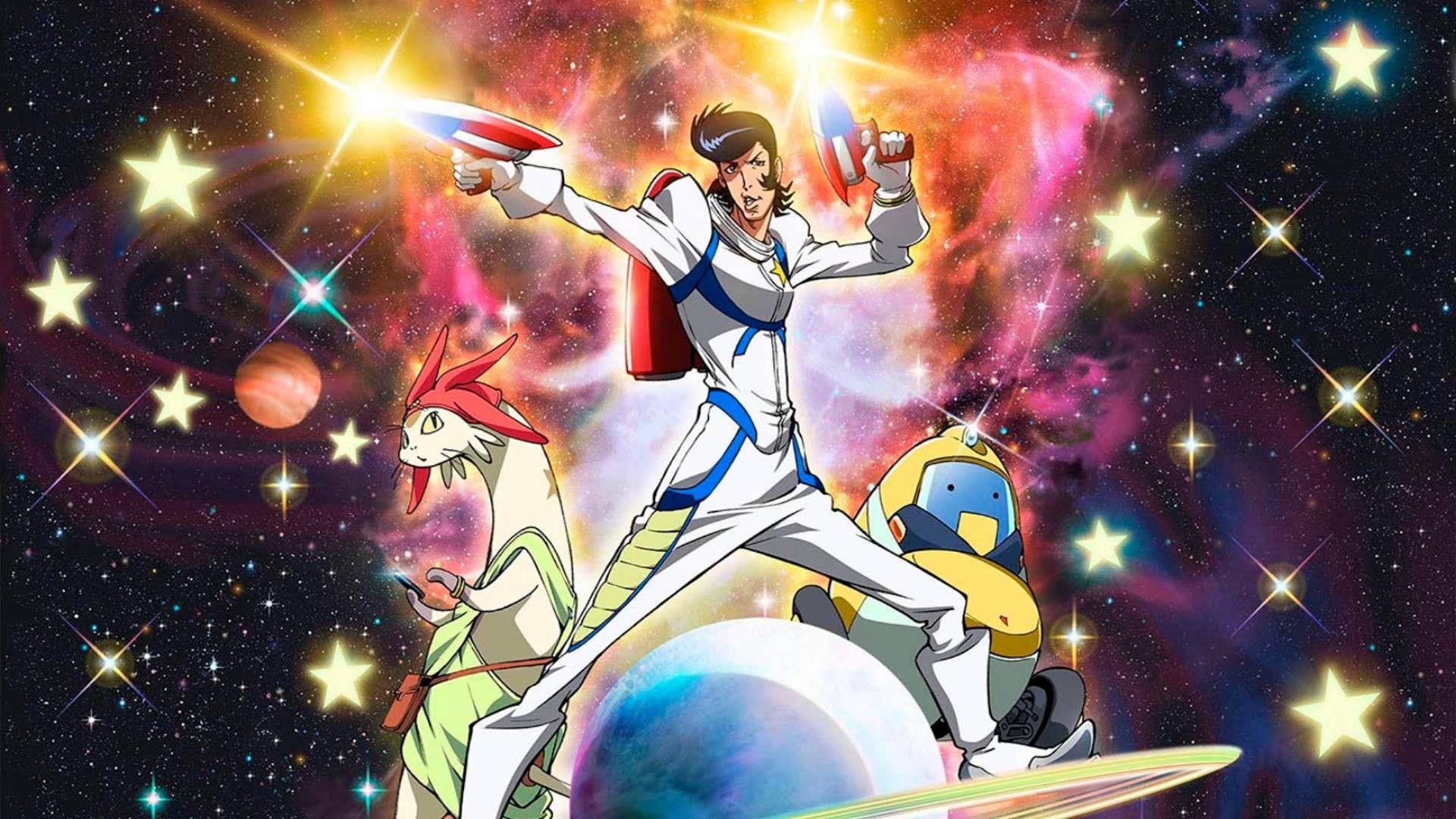 With the help of the cat-like alien Meow and robot vacuum QT, Dandy roams the galaxy on the Aloha Oe in search of unclassified alien species. And while hunting aliens can be pretty exhausting, the trio always ends up on a dangerous or romantic adventure in any universe they visit.
At its peak, Space Dandy is one of the most creative anime shows that can be a breath of freshness from the usual action series with multiple romantic relationships.
Check Out: The Best Anime Studio Of All Time
19. One Punch Man
Saitama has an unusual hobby of being a hero. So, he trains for three years, losing all his hair in the process and becoming a mighty hero that can defeat anyone with a single punch. While this has made him a formidable opponent, there is no thrill in battling his foes anymore. This is the norm until he meets Genos, a 19-year-old cyborg who desires to become his disciple. Together, they attempt to join the Hero Association, but Saitama is shocked to learn that nobody knows who he is, marking the beginning of One Punch Man's adventures.
Check Out: Best Anime Fights Of 2020
20. Accel World
Haruyuki Arita, an overweight middle schooler and frequent target of bullying, finds solace in online gaming. One day, all his high scores are topped by Koruyukihime, the student council's vice president. Koruyukihime then proceeds to introduce him to Brain Burst- an augmented reality game that allows users to accelerate their brain waves significantly to a point where time seems to stop.
In exchange for destroying his bullies, she enlists his help to find Brain Burst's creator and defeat the " Six Kings of Pure Color" as she attempts to beat the game.
---
---